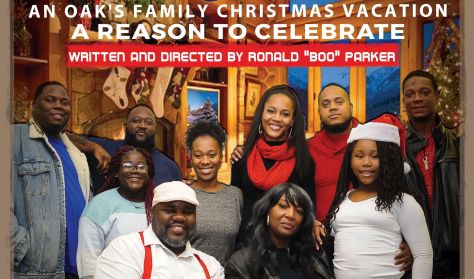 An Oak's Family Christmas Vacation
Dec. 15, 2019 @ 6PM
Cost: $20.00 ADV/ $30.00 DOOR / $35 VIP
ADVANCED PURCHASE PRICE: If available/advertised, Advanced Purchase Discounts will be added in automatically at check-out, after the seat selection.
US $ 0.00 - US $ 30.00
2 ticket type
Presenter:  SOULGOOD PRODUCTIONS 
"An Oak's Family Christmas Vacation" is an Original Phenomenal Stage Play about a Family dealing with the Holiday Traditions and their reality, which leaves the family discovering their reason to celebrate this year. It's hilarious, with drama and exciting suspense. Don't miss a chance to enjoy our family with your family! 
*Get the VIP experience and be the first to be seated in the auditorium when the doors open, get escorted to your front Row seat along with your VIP Pass, a Concession Meal Ticket plus our Souvenir Booklet*  Written and directed by Ronald "Boo" Parker.