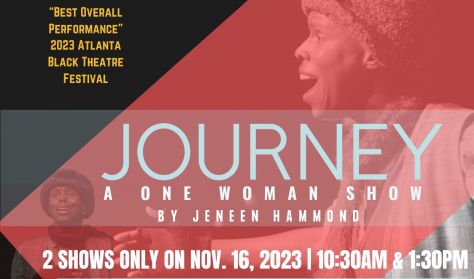 Journey
Date: Thursday, November 16 @10:30AM -11:30AM & Thursday, November 16 @1:30PM-2:30PM
Tickets/General Admission: $10
ADVANCED PURCHASE PRICE: If available/advertised, Advanced Purchase Discounts will be added in automatically at check-out, after the seat selection.
US $ 10.00
General Admission
The "Journey" is a one-woman production presented by award winning, multi-talented creative-Jeneen Hammond, who crafts stories of the heart that blend soulful song renditions and tender truths into a beautiful orchestration of conversations that elevate the human experience.  The "Journey" captivates audiences...especially young audiences, through the art of creative storytelling to read, learn, and lead in literacy through life.  
Warning! The basket time limit is about to expire!
estimated time left:
00:00
Time limit has expired. Please, put item(s) in to basket again.
---