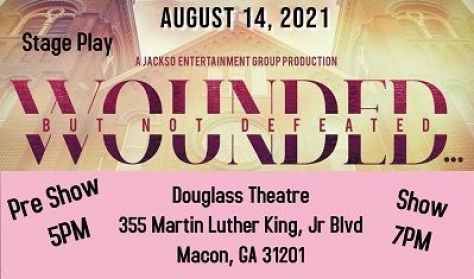 Wounded But Not Defeated - miniconcert
$35/$125 VIP (VIP includes both showing and more!)
ADVANCED PURCHASE PRICE: If available/advertised, Advanced Purchase Discounts will be added in automatically at check-out, after the seat selection.
US $ 35.00 - US $ 125.00
2 ticket type
A Jackso Entertainment Group Production Presents... WOUNDED BUT NOT DEFEATEDAugust 14, 2021 @7pmWounded But Not Defeated the Stage Play Returns to the Douglass!  7pm | $65 General Admission5pm | $35 Mini Concert5pm | $125 VIP includes access to both shows and VIP seating, XL T-Shirts "WOUNDED BUT NOT DEFEATED" (1 per VIP) and first access to take photos with the cast.  Safety guidelines will be followed.